One of my roles is a Trustee/Director of Sutton Schoolswork, our excellent local Christian schoolswork organisation. This is a spoken word vision of the future I wrote for and delivered at our annual Thanksgiving Service, for which I thought I'd get thrown out, but instead have been asked for copies. Who knew. Maybe it wasn't provocative enough after all.
---
blindspots and horizons
we the church suffer from an honesty crisis
and I guess it shouldn't surprise us
when you think about the average ages
in our congregations
which isn't something to beat ourselves up about
except to say that if we put as much effort into schoolswork
as we do coffee mornings and playgroups
there'd be more schoolswork
we the church suffer from an honesty crisis
and actually it should surprise us
when you think about all the time spent
in our buildings
compared with time spent at work and in school
by me or you
that we focus so much on what happens in church
when most of us are mostly everywhere else
it's a blindspot
a dark patch
the part we can't see
when we plan all our outreach
and where to plant seeds
we think we've got kids sorted
because of kids church and the youth group…
yes youth work is exciting because the kids come to us
and they're ours, our little flowers
it's not that we're selfish it's just
that they're important
an investment
the future of us
well – the present don't forget
to be theologically correct
so yes big shout out to kids workers and youth workers
and to old sofas and hoodies
but let's lift our eyes from the blindspot of inside
to the horizon that is outside
because I've seen the future and it's much more exciting
let the workers out into schools it's not that frightening
on the horizon I can see churches passionate for schools
so they're equipping their youthworkers with all the tools
needed for assemblies about Jesus and forgiveness and hope
and lessons about Easter and resurrection and more hope
in the future we all know what prayer spaces are
And RE days and CUs and recognise the far far
reaching nature of teaching about Jesus
from someone who believes it
in the future the PCCs and deacons meetings and leadership teams
are sharing in the excitement of realising the dream
and releasing the potential we like to keep neat and tidy and clean, inside,
for our kids
in the future the numbers become even more astounding
than the fact that we reach nearly all the 35,000
children and young people in the borough of Sutton
which kind of puts into perspective how many people we're normally preaching too,
doesn't it
there's all these kids sitting ready to listen in classes
meanwhile we spend all our time sitting on our…. vases
as most churches spend more on flowers than they do to schools work
now I will confess to you I've got a vested interest in sutton schoolswork
and it's not because i'm a director
it's not because i'm a dad
it's not because I do schoolswork and would be glad
of some help
I've got a vested interest because I follow jesus
and I know how little kids know about Jesus
or the world beyond their own noses
I see the future when we've raised our eyes from the blindspot
to the horizon
when every school and every child hears the message of Jesus
form someone who truly believes it
where we can do more than skim the surface
with a fleeting assembly
but go deeper, and further – that's the future:
can you see it? will you make it happen?
Will you walk with us from the blindspot
to the horizon?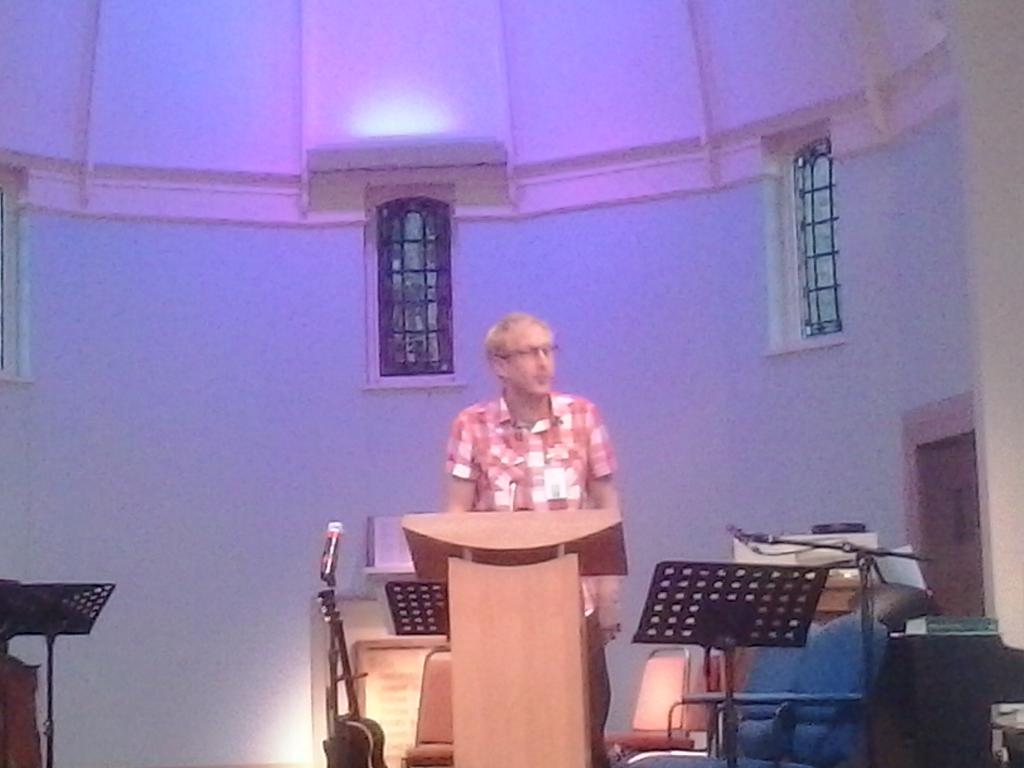 Photo courtesy of @WarnerPidgeon
---
Sutton Schoolswork are in our 20th year, and are celebrating this with an exciting plan for growth, which includes the appointment of a brand-new post of Schoolswork Director. See the website for more details, and to find out how you could get involved in supporting us as we aim to increase the knowledge and understanding of the Christian Faith and support students in their spiritual, social and moral development.