Two very different incidences this week revealed the way we men so often accidentally – and not so accidentally – assume and adopt positions of power and dominance that should not be acceptable, but are. The first is the way that Emma Watson gave an excellent speech for #HeForShe about not demeaning and sexualising women, which the Daily Mail reported by reviewing her outfit and the Telegraph used a stock picture of her in a more sexy outfit than the one she actually wore. The second is David Cameron's 'She purred down the line…' throwaway comment about the Queen's response to the Scottish referendum result.
Emma Watson then. She takes the mantle, knowing that she will be demeaned for talking about not demeaning; abused for talking about not abusing. Barely has she finished when the repercussions start. Men, we can stop this. To support and uphold and stand by women is a totally and truly and utterly Christian – and human – thing to do. Jesus was touchy about demeaning women. After all, his own mum would have been rejected as he was born a bastard. So he made a beeline for abused and hurting women in order to restore them. To restore them. Not to humiliate them, not to act out some domination fantasy over them, not to replay years of cultural stereotypes over and over again. 
Men, when we join in sexist jokes we are part of this hateful and horrible bullying. When we judge women by what they wear and not what they do we are part of it. When we do that, we show ourselves to be as weak as classroom bullies usually are. To be truly human, to be truly man, is to stand up for women until they are not demeaned, abused, hurt, sexualised and judged. The changes start with us, in our families, homes, workplace, cars, colleges, schools.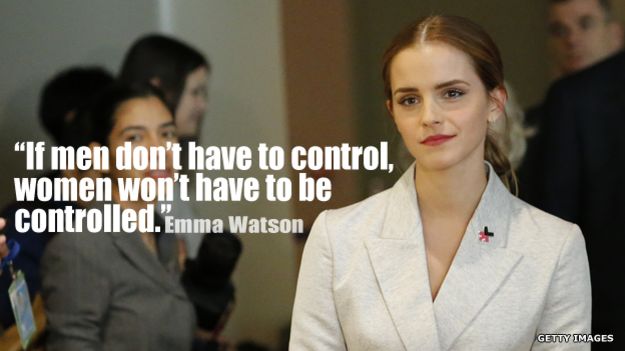 David Cameron. So much to say, but in that throwaway line he revealed a great deal about how men present to the world. Confident, capable, in control. We all know the Queen does not 'purr'. She may well have been pleased. But she is not a cat. To talk about her as if she is a domesticated animal, and he is the warrior hero rescuing her country from the brink… no, he was desperately relieved, he massively miscalculated, and she is very much above him in the order. But the archetype dominant man cannot have that. So we use language, the way we tell stories, to keep ourselves dominant and in control. 
It's not just a 'posh' thing, though it is easy to attribute some of it to that Etonian, private-school self-confidence in which success is assumed, mistakes are someone else's problem, and the distance between revealing the pain of our hearts to the world is about 1000 miles. But we see it all over the place. We men will make jokes about our insecurities so that nobody else can, and more often than not will demean someone else in order to cover our own sense of shame. Most of us do not do than in conversations about the Queen. It may be about our wives, the 'girl' at work, the woman walking down the street, or what Emma Watson wore whilst giving her speech. 
Men, this matters. Disappearing Page 3 matters. Judging women by appearance matters. Talking disrespectfully about your kids mum matters. Christians must be at the forefront of standing up for this, because Jesus stood up for women outrageously and took the rap for it. It's not actually about being feminist, it's about being human.  
See how you can change a conversation, hold in the sexist joke, and say positive things about women around you today.